An assortment of house-made pastries, including cheddar chive biscuits, whole wheat everything scones, summer peach muffins, and blueberry muffins, served with house butter and seasonal fruit jam. 

Dietary Notes
Contains gluten, nuts, & dairy.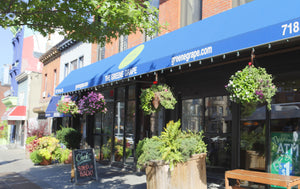 The Greene Grape
We are a neighborhood grocer deeply rooted in the Fort Greene community and the community we have created through our customers, employees, vendors and friends.
Our

 

mission

 

is to supply goods made with integrity, skill and pride.
Our

 

ambition

 

is to build strong relationships with our customers and suppliers that are based on direct communication and transparency.
Our

 

inspiration

 

comes from the positive changes we see in the food industry as a result of the success and growth of the small businesses, sustainable farmers and engaged distributors we partner with in our shop.
ORIGIN
Fort Greene, Brooklyn
View All Products