Honey Bee, We Bee-lieve In You!
Happy National Honey Bee Day! Every third Saturday of August, honey bees and the apiarists who keep them are honored with National Honey Bee Day, a day recognized by the USDA. Of course, you don't need the USDA to tell you why honey has so much buzz. Honey is one of the oldest food sources in global history, and was very likely humanity's first sweetener, with evidence of human collection of honey going back almost ten thousand years. It's endlessly variable, good all on its own and excellent as an ingredient for both sweet and savory dishes.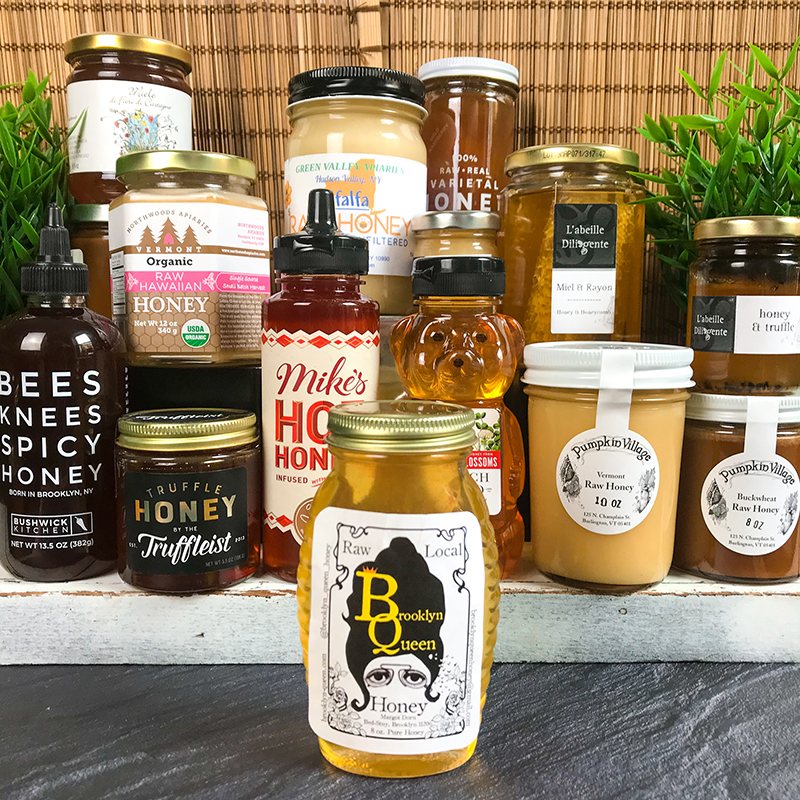 Here in the 21st century, jars and bottles of honey have taken on all sorts of new forms. Raw honey, celebrated for its nutritious health benefits; monoflower honey, changing color and flavor according to the crop it was derived from; infused honey, usually with truffles or chiles. And because honey has become such a spectrum of texture and flavor, we've made sure our shelves reflect that spectrum! Highlighting each and every honey we carry would be a long read, so we've chosen a few favorites, but you can find all our honey options here.
The name says it all! This regal honey is as local as it gets, coming to us from an apiary just a hop, skip and a jump away in Bedford Stuyvesant. We could go on, but the real scoop is in this Q&A with Brooklyn Queen's owner and head apiarist, Margot Dorn!
This honey is a bit of a 180 from Brooklyn Queen, coming to us all the way from France, but it comes highly recommended! Renowned fromagier Rodolphe Le Meunier (yes, the one who makes your favorite butter) introduced the owner of Apidis, the apiary that makes this honey, to the owner of Food Matters Again, helping to bring this honey stateside. Our head cheesemonger recommends the generous piece of honeycomb inside each jar as an exciting addition to just about any cheese board.
You might ask why these are paired together—aren't they both the same product? A spicy honey is a spicy honey, after all. Both source their honey from a combination of US and South American apiaries, then infuse them with whole peppers in Brooklyn. The Bushwick Kitchen spicy honey is hotter, though, thanks to the notoriously spicy Habanero peppers they use, and Mike's Hot Honey is sweeter and purer, without extra ingredients like vinegar. Whether you like your spicy honey aggressive and complex, or a flavorful companion to other ingredients on your plate, we've got the spicy honey for you.
This honey might be darker than you're used to seeing, but the truth is there is no one true "honey" color! All honeys derive their color from the nectar brought back to the hive, so buckwheat honey is bound to be as dark as any other buckwheat product, like pancakes. The color isn't just aesthetic, though! That darkness comes from buckwheat's natural bounty of minerals and antioxidants, in particular an antioxidant named polyphenol. All this nutritional value also translates to a strong flavor, which makes it great for cheese boards, snacking, and spreading on toast and even sandwiches.
Another 180: This unifloral honey is super pale! Alfalfa and buckwheat honeys are more alike than you'd expect, though, because both come from blossoms that are harder for bees to pollinate, leaving bees attending to each flower longer, which results in less honey overall, and is why you don't see either kind of honey on regular grocery shelves often. Alfalfa honey in particular is less sweet than most others, with a delicate flavor and a lightly grassy scent. It might get overpowered by a strong cheese, but it's practically made for cooking, and for the honey enthusiast who prefers a less saccharine experience. Our grocery buyer points out Green Valley's honey as their favorite of all time!